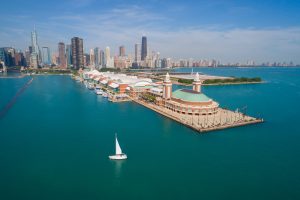 Are you ready to plan a convention or tradeshow that is a step above the ordinary? Rather than booking a typical convention center, you could host your next event on a private yacht. At Anita Dee Yacht Charters, we specialize in planning and hosting unique corporate events aboard our beautiful luxury yachts. Attendees will enjoy every moment of the event and leave with lasting memories and stronger professional relationships.
To learn more about how we can help you plan a completely customized convention or tradeshow aboard one of our vessels, contact us at (312) 379-3191.
Why Charter a Private Yacht for Your Next Event?
Over the past few years, many employees have become accustomed to working from home. To some, the idea of getting dressed up and traveling to attend a convention or tradeshow doesn't sound very appealing, but others long for a chance to interact with other professionals in a face-to-face environment. Overall, everyone will benefit by gathering together in a physical space to share products and ideas with one another.
As employees have adapted to a new way of working, corporate event planners must also come up with innovative ways to engage the best companies and their employees. Now is the time to plan a convention or tradeshow that is unlike any other, and a luxury yacht on Lake Michigan is just the venue you are looking for. When prospective attendees see Anita Dee Yacht Charters listed as the venue, they will be thrilled to register for the event and will look forward with anticipation for everything we have to offer.
Why Choose Anita Dee Yacht Charters?
We are a family-owned business and we have spent the last three decades building our reputation as the leading private yacht charter company in the Chicago area. Businesses and individuals seek out our services when they want to host a truly memorable event with exquisite details and exceptional professionalism. We have experienced event planners who will work with you to ensure everything turns out the way you want.
Everything from the date and time of the event, sailing route, menu details, décor, entertainment, and more is totally customizable to your preferences. You can even choose from several docking locations throughout the Chicago area as well as other docks on Lake Michigan throughout Illinois, Indiana, and Wisconsin. Popular docking locations include McCormick Place, River Roast, The Sheraton Hotel, and The Horseshoe Casino.
The possibilities are endless as you plan your convention or tradeshow with Anita Dee Yacht Charters.
Our Vessels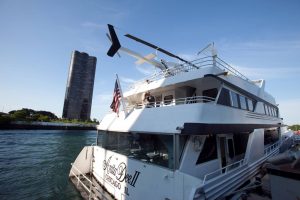 We have two vessels to choose from to host your convention or tradeshow. Smaller groups may prefer the more intimate Anita Dee I, while the spacious Anita Dee II will accommodate up to 400 guests and allows plenty of room for product demonstrations, dining, and socializing. Each of these yachts has a full-service galley ready for the catering company of your choice to prepare gourmet meals for your guests.
Our on-site coordinator, along with other team members, will be onboard prior to and during your entire event to make sure everything runs smoothly. You have enough to worry about as the host of a convention or trade show. You can rest assured that all the onboard details will be in good hands with our team.
Entertainment Options
Each of our vessels boasts a top-of-the-line entertainment system that will allow for clear communication and entertainment throughout your convention or tradeshow. We keep our sound system up-to-date and maintain it regularly to provide you with the best sound quality and a seamless experience.
You will easily be able to execute an agenda that includes speakers, workshops, press and media events, and awards ceremonies, in addition to exhibitions and networking events. Products and ideas that are shared throughout the convention will simply be more memorable when the attendees are surrounded by the beauty of Lake Michigan on a private luxury yacht.
If you choose to bring in musicians during meals or at other times throughout your event, you may choose one from our preferred list, or you may also include any insured musician of your choosing for an additional fee.
Exquisite Cuisine
Unless your business is in the food or hospitality industry, most conventions or tradeshows are not centered around food. However, the food served to attendees can really set the tone for the whole event. When you choose from the catering companies we partner with, your guests will be dazzled with unique menu items that create an unforgettable culinary experience.
Our preferred catering companies offer a wide range of choices to fit any theme or budget. They can accommodate anything from a continental breakfast or casual appetizers to a five-course gourmet meal, and each company represents the best food that Chicago has to offer. They also offer many delicious vegetarian, vegan, and gluten-free options to ensure each of your guests has an enjoyable meal.
If you already have another caterer that better fits your vision for your event, we would be happy to accommodate them for an additional fee, as long as they are licensed and insured.
Drink Options
We also have a wide range of bar service packages to meet your beverage needs. Whether you choose to serve alcohol with a meal, at happy hour, or throughout the event, our bar service is sure to please your guests. We also have a variety of juice, sodas, and non-alcoholic frozen drinks to choose from.
Schedule a Convention or Tradeshow on a Private Yacht Charter Today
Most business people will attend dozens, if not hundreds, of conventions and tradeshows over the years. After a while, these events can become mundane, and all seem to blend together. If you want to host an event that truly stands out from the rest, book a private yacht charter with Anita Dee Yacht Charters.
Our hospitality specialists will help you customize every detail of your event to fit the theme and vision of your convention or tradeshow. We have over 40 years of experience planning one-of-a-kind yacht charter events, and we will make sure your event is exactly what you have in mind.
Contact us today at (312) 379-3191 to plan your next convention or tradeshow aboard one of our private yachts.