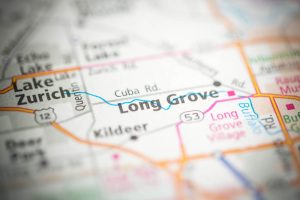 If you want to create a unique experience for your guests at your next event, contact Anita Dee Yacht Charters to learn about the services we offer. We offer a range of services for a private yacht charter, whether you're planning a wedding, corporate meeting, or birthday party.
Yacht charters allow everyone to celebrate a special occasion while taking in the beautiful views of the Chicago skyline. You and your guests can enjoy a one-of-a-kind experience while cruising along the river or around Lake Michigan.
We offer a range of services to meet your décor, entertainment, and catering needs. Our hospitality professionals can handle every detail during the planning and execution of your event.
Call Anita Dee Yacht Charters at (312) 379-3191 right now to book your Long Grove private yacht charter.
Two Vessels to Accommodate Your Needs
At Anita Dee Yacht Charters, we offer two luxurious yachts you can use depending on the type of event you're planning.
Our smaller yacht, the Anita Dee I, is 90 feet long and contains two floors for you and your guests to enjoy. It can accommodate up to 127 passengers.
The Anita Dee II is a 140-foot vessel with a salon deck on the first floor, a dining deck on the second floor, and an observation deck on the third floor. It can hold up to 400 guests. There's also a formal dining area that seats up to 120 people and an entertaining piano lounge.
Although we typically dock our yachts at Dusable Harbor on the Chicago River, we can take them to other docking locations throughout Illinois. We can even launch from multiple docks in Indiana and Wisconsin.
Events Anita Dee Yacht Charters Can Help You Plan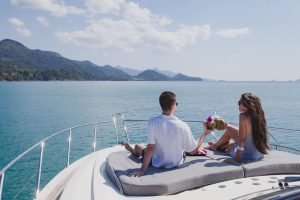 Our hospitality specialists have experience creating various events for our clients. They include:
Parties
Whether you're planning a small celebration or a large fundraising event, we have got you covered. We provide clients with our yachts for private social gatherings, such as:
If you want to take in the incredible architecture along the Chicago skyline, we can take you on a fun architectural cruise.
Anita Dee Yacht Charters will provide you with the experience of a lifetime. We offer a range of packages for entertainment, food, and other services to create the perfect ambiance.
Wedding Events
If you're getting married and want to spend your ceremony and/or reception on the water, contact Anita Dee Yacht Charters to begin preparations. Take this important step in your life dockside, or bring your celebration aboard the vessel for no additional fee. One of our captains will be happy to officiate your wedding.
We also offer a complimentary bridal suite so you and your bridal party can get ready together before the ceremony.
Our charters aren't limited to ceremonies and receptions. We can also provide services for any event in your wedding, such as:
Our vessels have a full-service galley stocked with fresh ingredients to feed your guests the finest cuisine. We also have a state-of-the-art sound system on both of our yachts, so you can complement the vibe of your event with the perfect music or entertainment.
Special events
Many Long Grove residents attend the Chicago Air and Water Show each year. It's often crowded at the beaches, pier, and lakeside restaurants. If you want to experience the view from the water, rent a yacht from us for the excursion.
We also accept bookings for the Fourth of July fireworks and New Year's Eve celebrations.
Corporate Events
Plan your next business meeting or gathering onboard a yacht from Anita Dee Yacht Charters. We provide creative options for décor, food, entertainment, and other services for these corporate events:
You can avoid spending your time in a boring conference room or banquet hall. Instead, dazzle your clients or employees with the sites you can only see when you're cruising online Lake Michigan or the Chicago River.
Options for Booking Your Event
You can charter a yacht in the morning, afternoon, or evening. We plan events for our clients every day of the week, including the Fourth of July and New Year's Eve. You can choose when you would like to leave the dock and the duration of your cruise.
Hourly rates are based on which of our vessels you want to use and the time of day you want to take it on the water. We charge higher rates for special events, such as the Fourth of July fireworks.
We Work with Multiple Vendors to Provide Dependable Services
At Anita Dee Yacht Charters, we have hand-picked some of the most talented, experienced, and creative vendors in the event industry. You can hire a company you usually use or choose from our options.
Photography
Capturing memorable moments is essential whether you're celebrating your loved one's birthday, ringing in the new year, or recognizing your employees for their hard work.
The production companies, photographers, and videographers we work with can take pictures throughout the entire event, so you're not burdened with this task.
Entertainment
You need to keep your guests entertained while they're on board, so any lulls in the activity don't lead to boredom. Local entertainment specialists are available to provide the music or entertainment necessary to create the perfect environment.
Bring your vision to life with a customized performance planned by an experienced Chicago-based company. They can offer a high-energy entertainment experience that keeps your guests partying all night or relaxing music to complement your morning cruise.
Floral Arrangements
Let our local florists provide floral décor to complete the look of your event. The companies we work with can provide flower arrangements for any occasion. Whether you need centerpieces for a luncheon or flowers to complement the colors you chose for your wedding, you can depend on us to make it happen.
Cuisine
You can choose from various dining options when you charter a yacht with Anita Dee Yacht Charters. Besides the entertainment, food is another critical aspect of planning an unforgettable event. Our full-service galley can hold delicious food for you and your guests.
We work with catering companies to create a menu tailored to your desires, dietary needs, and budget. We can provide catering services for a sophisticated sit-down dinner, extravagant multi-course meal, or laid-back buffet. You can also order desserts, pastries, or a custom-designed cake.
Contact Anita Dee Yacht Charters to Book Your Event
Anita Dee Yacht Charters has more than 31 years of experience helping our Long Grove clients create memorable yacht charters. You can choose the date you want to set sail and the route you want to take so you have the perfect backdrop to complement your event. We can offer assistance where you need it, or our onboard event coordinator can plan every aspect of the event of your dreams.
If you want to book your next event with us, call (312) 379-3191 today.