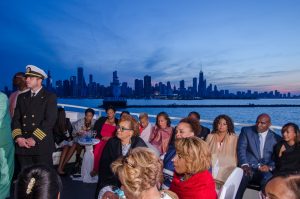 Now that the COVID-19 emergency has eased and we can start getting on with our lives, you might be thinking about doing something for your employees or for the community that stuck together throughout the past two years. Instead of an awards banquet in a conference center or strip-mall restaurant, try something different: a luxury cruise on Chicago's waterways.
Anita Dee Yacht Charters has two private yachts available for afternoon or evening Chicago luxury yacht charter for your corporate event on Lake Michigan or the Chicago River.
We can provide a delicious meal, music, tasteful décor, and the magnificent backdrop of the Chicago skyline for your event. Call us at (312) 379-3191 or review your options online and set up your event today.
A Unique Award Recognition Experience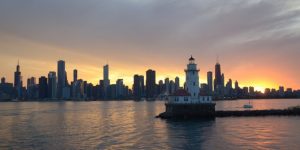 Everyone has been to an awards banquet. Whether for a deserving employee or a lifetime achievement for a local philanthropist, the community gathers to congratulate the recipient and honor others who have contributed to the success of their business or community.
The usual gathering place for these events is someplace that has room for enough people and the facilities to make the event memorable. Most event planners think about convention centers, banquet halls, maybe even theaters or churches. But since we have all spent the past two years indoors, another place to consider is on the water.
The Anita Dee I is a yacht suitable for more intimate gatherings of up to 135 people. The spacious Anita Dee II can accommodate up to 400 people. Depending on the size of your group, either of these settings would be a new and exciting venue for an awards ceremony.
We can cruise along the Chicago waterfront while you make your presentations, or dock at any of a number of locations along the shore:
Meals and Desserts
We want your awards banquet to be as delicious as any you might have in a hall on the land. Our caterers have been carefully selected to give you the best service and a wide range of menu options for every type of awards ceremony.
Both yachts have full-service galleys to accommodate our caterers. If you prefer a caterer or bakery service that is not on our list, we will be glad to make arrangements for them as well. All we ask is that they are properly licensed and insured.
Flowers and Décor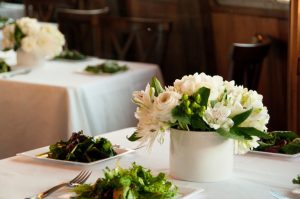 It wouldn't be an award recognition ceremony without floral centerpieces and tasteful décor. We have a hand-picked list of talented florists ready to provide you with the beautiful décor you want to make your cruise a delight for all the senses.
If you need other decorations, we can assist you with making your visions come to life. If you want a themed or specific style of décor, we can assist you with specialized backdrops and photo backgrounds. Talk to our event coordinator and explain what you need. We will help you find everything for the fantastic cruise you have in mind.
Music and Entertainment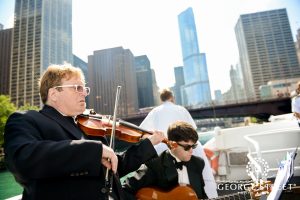 When you want to impress your workers and other attendees, you need music. Both yachts have up-to-date sound systems that can fill the decks with your choice of musical entertainment, perfect for dancing or ambiance. Select from our list of preferred entertainment companies in the Chicago area or bring your own and let them go to town!
Entertainment can be provided from our preapproved list, or you can have your own entertainers use our facilities, provided they meet our insurance guidelines. Whatever you need for a delightful evening or afternoon of fun can be arranged. Contact us to discuss your ideal recognition gathering with our event coordinator.
Photography and Videography
Now that you have arranged the perfect setting for your award recognition ceremony, all you need is someone to capture the moment. We can help you there too. We have a selected list of photographers and videographers who are familiar with the layouts of the yachts and their rooms, and they can set up in advance to get the best shots of your individual guests and candid shots of the rest of the room. We will arrange for whatever is needed to make your event run smoothly.
Pick Your Own Times
Whenever you want to have your award recognition ceremony or banquet is fine with us. Both yachts are available for private charters. Whether you want breakfast, dinner, or a late-night ceremony under the stars, we will gladly arrange to have your group embark to experience a memorable event.
If you want to have an extra-special time, you can charter time on the yachts during the annual fireworks display or the Chicago Air and Water Show, when the events resume in the Windy City.
About Our Cruises
The Anita Dee I and II are berthed at DuSable Harbor. The owners of Anita Dee Yacht Charters were also certified captains and ship's masters and operated their own cruise yachts for many years.
Now that the two yachts are part of the thriving Chicago cruise scene, Anita Dee Yacht Charters is still the family-owned-and-operated company the original owners began, and now the daughter and grandson of the original owners are prominent in the company, proudly continuing the family legacy. We strive for perfection in all we do for our clients and offer the best service to charter groups large and small.
About our Memorable Anita Dee Luxury Yacht Charter Corporate Event Services
Awards recognition ceremonies are not the only events the Chicago memorable corporate event specialists at Anita Dee Yacht Charters know how to plan. We host all types of corporate events, including the following:
Contact us to learn more about all of the fully-customizable options and get started with the planning process today.
Making Plans For Your Award Recognition Event
Now that we've told you about what we can do for you, what do you need to do next? You need to call Anita Dee Yacht Charters at (312) 379-3191 today to discuss your award recognition event with our event coordinator. Or you can fill out our online contact form and one of our representatives will contact you to discuss your options soon.
The world is getting back to normal, so celebrate in open-air style. Book your next event on a Chicago luxury yacht charter and enjoy a liberating day on the water.