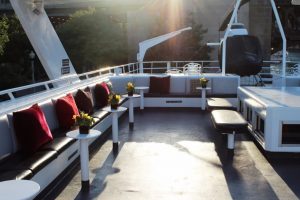 Product launch events are important to your company and offer several benefits. A launch allows your company to interact with your consumer base and puts greater attention on your new product. Launch events are a powerful way to get attention while giving consumers a good time to network.
They also offer you an opportunity to develop leads for your business and generate momentum for sales. You have worked hard to develop your product. Now it's our turn to make your product launch a success. Our fantastic team of Chicago memorable corporate event specialists at Anita Dee Yacht Charters can ensure that you have a unique and customized product launch aboard a luxury Chicago yacht charter.
Call us today at (312) 379-3191 to schedule your product launch aboard Chicago's premier luxury yacht charter.
Your Product Launch Is Special
Your product launch starts with developing a narrative to bring your stories and product to life. Our onboard event coordinator will work closely with you to ensure that your marketing plan flows through your product launch. Your launch event is an excellent way of showcasing your product and building hype around future sales.
We understand that planning a launch requires time and energy. Our team will work with your marketing department to help plan and organize the event so that it meets your goals and objectives. We understand that events are not one-size-fits-all. Therefore, we have options to help meet your needs within your budget.
Choose a Luxury Boat Charter Venue for Your Launch
The venue you choose to launch your product must emphasize the product. If you are launching a high-end product, then the venue needs to follow this theme. Yet, if the product you're launching relates more to backyard barbecues, you want the venue to set the tone.
Anita Dee Yacht Charters offers a wide range of options onboard our private yacht charters. Whether you're looking for something high-end or backyard, our yachts – Anita Dee I and Anita Dee II – are a blank slate allowing us to accommodate your needs and create an atmosphere that thrills your customers.
Customize the Entertainment and Food for Your Event
Your marketing department has likely worked long and hard to produce a plan that dovetails your branding with your new product. You want that branding to continue through your product launch. That's why it is so important to customize the entertainment you provide your customers and the food and drinks you serve them.
Our top priority is to ensure that your event meets your goals. You have access to a selection of Chicago catering firms that provide you with outstanding service. Each one was chosen based on customer service, creativity, and variety. Each company meets our insurance and licensing requirements. We are also willing to accommodate any licensed and insured caterer that is not on our list.
Our yachts are also fully equipped with state-of-the-art sound systems so that your music can be heard throughout the entire vessel. You can choose from our handpicked Chicago entertainment companies or choose your own insured entertainer. If you choose your own entertainment, download a copy of the non-preferred entertainment guidelines to ensure they meet our insurer's requirements.
Record the Event with Photography and Videography
Before your product launch, you may have used social media to generate interest. Using photography and videography during the event is a great way of following through with your initial marketing and continuing to generate interest in your product and sales.
We have carefully chosen videographers and photographers based on several factors. Our listed professionals have previous experience working onboard and are dedicated to providing you with the highest level of satisfaction and service.
Our preferred photography or videography companies will capture all the memorable moments of your product launch so you can use them again and again in your marketing and social media campaigns.
Keep It Exciting and Unique, Yet Simple
Product launch events are a balancing act between hosting in an exciting and unique venue while keeping the overall event simple. A product event is about shining the light on your new product through creative displays, lighting, and decor. We provide you with a blank canvas on which our event coordinator and your marketing department can produce an experience for your clients. We make it easy to brand the event and make it your own.
Let Anita Dee Yacht Charters Take Care of Your Production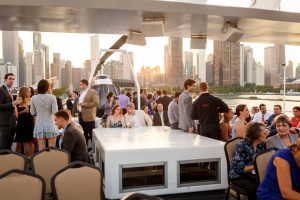 Your product launch is a production that gathers large and small elements to create an impactful and memorable party. Together with our event coordinator, we'll work with you to provide just the right lighting, decor, music, entertainment, and displays that highlight your product.
Anita Dee Yacht Charters partners with you to handle every aspect of your product launch onboard one of our premiere Chicago private yacht charters. We walk with you every step of the way, and we'll have an onboard event coordinator at your product launch to ensure everything goes smoothly.
Anita Dee can assist you in planning your next corporate event, whatever the occasion.
The Chicago memorable corporate event specialists at Anita Dee Yacht Charters can help you with more than just your product launch. We help plan and host all types of corporate events, including the following:
Contact us to learn more about all of the fully-customizable options and get started with the planning process today.
Call Us Today, and Let's Start Planning Your Product Launch
Your product launch is the culmination of many months of research, development, planning, and production. You don't want all the time and effort that went into producing a new product to fall flat because you chose the wrong venue for your product launch.
It's not usually simple or easy to plan a large event and have it come off without a hitch. But, when you work with Anita Dee Yacht Charters, you'll find that your event production can be as simple as you would like. Our onboard coordinator helps plan your product launch and ensures that the party is a great success.
Your product launch marks the end of product development and the shift to marketing and sales that drive your company's success. Whether this is your first product launch or one of many, it is important to get the details correct.
The team at Anita Dee Yacht Charters is dedicated to providing each of our clients with the best experience possible for their event. We are ready and waiting to help you plan your product launch. Call us today at (312) 379-3191 to plan your product launch and break out of the mold of boring corporate events.