Employee Appreciation Events Aboard a Yacht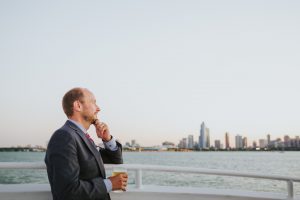 The events of the COVID pandemic have put your employees through an unprecedented period of disruption over the past 21 months. In normal years, you would have hosted picnics, thrown parties, and organized other events big and small to acknowledge your employees' service and dedication, but the pandemic has interfered with that as well. They deserve to be recognized, rewarded, and rejuvenated — the best way to do that is to reach out to Chicago's premier private yacht charters to give them a Lake Michigan experience they will never forget.
Whether for more intimate gatherings or up to 400 guests at a time, either Anita Dee I or Anita_Dee_II can accommodate your gathering and all those special touches that make an event memorable.
Whichever ship you choose, it will be yours exclusively for the duration of the cruise – to guarantee the privacy of our clientele, we do not book multiple events during the same reserved time slot.
For more information and to schedule your own corporate event on one of our yachts, contact Anita Dee Yacht Charters at (312) 379-3191 now.
Recognize Them
Chartering one of our private yachts for an afternoon or evening sail on Lake Michigan with a catered gourmet meal and bar service will show your employees and co-workers how much you appreciate them more than words could ever express. Why give them some acrylic or crystal memento that will just gather dust on their desks? You can deliver a once-in-a-lifetime experience cruising along Chicago's magnificent lakefront at sunset instead.
And if you want to call attention to individuals or teams, you can use our state-of-the-art sound system to broadcast your comments through high-fidelity speakers that reach every location on the yacht. We can also collaborate with you to arrange for customized photo opportunities with Chicago's incomparable skyline or other specific locations as a backdrop. The photos can include your company logo, date, or other text. We also tailor the décor throughout the yacht to reflect your company colors or any theme you select, such as a casino night, Roaring '20s, Cinco de Mayo, Fourth of July, or New Year's Eve.
Relax Them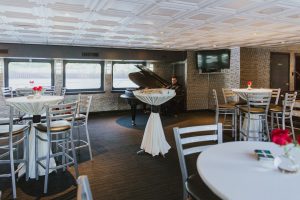 Three hours on Lake Michigan in the luxurious surroundings of one of our yachts will demonstrate that you value your employees and appreciate the work they do for your company. Our professionally licensed captain and the crew will ensure a safe journey throughout the cruise, and our cruise coordinator can arrange any number of special events on board.
We have a relationship with some of the best entertainers in the Chicago arts community, so whether you're interested in a jazz band, a DJ spinning the latest hits, a magic show, or a similar act, we can make it happen. We can connect you with one of our tried-and-true acts or, for an additional fee, we can turn our stage over to any insured performer you bring with you.
Alternatively, you could book the cruise for one of Chicago's most magical weekends, like the Air & Water Showthe Chicago Yacht Club Race to Mackinac, Jazz Fest, or Blues Fest. If fireworks are something your group would enjoy, set up a 4th of July cruise to enjoy the City of Chicago's display (you will see many other municipalities' shows as well from your vantage point) or, on Wednesday and Saturday evenings between Memorial Day and Labor Day, take in the Navy Pier fireworks show.
When booked sufficiently in advance, we can plan an itinerary that includes stops in other ports in Illinois, Wisconsin, or Indiana for events like Summerfest in Milwaukee and a visit to the Horseshoe Casino in Hammond, Indiana.
And your employees won't even have to go back on dry land to enjoy some of the finest cuisine in the Chicagoland area. Both yachts have a full-service galley, so we can accommodate virtually any custom menu options. Over the nearly forty years our family has been offering these cruises, we have developed a preferred list of caterers who reliably deliver delicious fare and customer-focused service.
Recognizing that some hosts and hostesses are partial to their own caterers and vendors, we can turn our galley over to any other fully licensed and insured caterer you hire. Our attentive waitstaff will happily serve your employees a variety of beverages and, as with your food selections, you can customize the bar experience to fit your group. Your employees will be free to take in the view, dance, chat, and enjoy the ride.
Rejuvenate Them
An outing on Lake Michigan is the type of escape you simply can't match anywhere indoors, no matter how glamorous the surroundings. The wind, sun, and sights all come together to make your employee appreciation event truly stand out. Your employees will have several hours to connect and celebrate with each other in a truly refreshing environment.
There is something inherently stimulating about being on the open water, and virtually all our customers come back to the dock in a better mood than when they left. Couple that with getting up-close views of some of the Chicago area's most famous landmarks, like the Hancock Tower, Navy Pier, Monroe Harbor, Grant Park, , the Field Museum, Adler Planetarium, Shedd Aquarium, Soldier Field, and, eventually, the Obama Presidential Center, there is something for everyone to admire and appreciate.
And as to safety for our guests in these challenging times, we comply with all CDC and other COVID guidelines. The fact that a cruise is primarily an open-air event will also give you and your employees additional assurance that congregating at your event will not pose unnecessary health risks, so your employees can get a welcome respite from some of the smothering health measures imposed by the ongoing pandemic.
Call Us Now
Your employees are ready for and likely desperately need a recognition event that literally takes them away from their everyday workday lives. Check your calendar and contact Anita Dee Yacht Charters at (312) 586-8735 or to book a private yacht tour aboard one of our beautiful vessels.