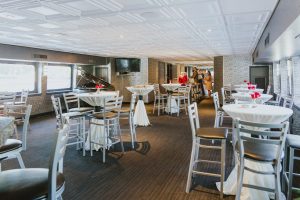 Whether planning a business luncheon for 50 or a client appreciation for 400, Anita Dee Yacht Charters is happy to help you design an unforgettable Chicago cruise. We specialize in hosting events for businesses just like yours, and our team will be ready to accomodate you and your team. For your next client meeting, corporate event, or product launch, consider hosting your guests on one of our private yachts!
Anita Dee Yacht Charters offers two private, exclusive Chicago cruises with flexible charter times. From the elegant decor to the exquisite cuisine, not one detail will be overlooked when you treat your guests to the stunning Chicago skyline setting aboard the Anita Dee I or the Anita Dee II. With this much flexibility and support, your event is sure to be a successful affair.
Anita Dee can assist you in planning your next corporate event, whatever the occasion.
If you are looking to put on a corporate event on one of our amazing, well-appointed yachts, we'll be ready to help you host a memorable event. We're available to help you if you'd like to schedule a:
Choose from the many amenities and options we offer to make sure that every detail is customized to meet your objectives.
Alternate Docking for Chicago Yacht Charters
Our boats are docked in the heart of downtown Chicago on the Chicago River at Lake Shore Drive, but both of the Anita Dee vessels are capable of docking at many locations throughout Illinois and Indiana, and Wisconsin, so you can choose the location of embarkation and the direction of travel as well.
Some of our more popular docking locations are McCormick Place, River Roast, The Sheraton Hotel, and The Horseshoe Casino.
Customizable Dates and Times
Both vessels offer exclusive private charters, allowing each group to customize the date and time for breakfast, lunch, evening, and late-night cruises.
Catering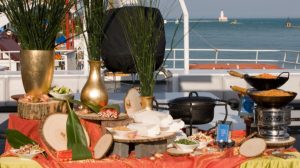 Anita Dee's top priority is to make every detail of your event as close to perfection as possible. To achieve this, Anita Dee Yacht Charters has hand-selected the finest in Chicago catering to provide you with outstanding service and help create the perfect event.
Each one of our exclusive caterers was chosen based on their creativity, customer service, and variety. Both of our vessels are equipped with a full-service galley to ensure that the cuisine possibilities are endless.
Contact one of our preferred caterers for a customized menu package. Each company meets our insurance and licensing requirements and is happy to assist you with the utmost level of service and satisfaction. Anita Dee can also accommodate any licensed and insured caterer not listed.
Entertainment
Both our yachts are fully equipped with state-of-the-art sound systems to provide music throughout the entire vessel. To make your corporate cruise the perfect event, Anita Dee Yacht Charters has hand-picked the finest in Chicago entertainment companies.
The following musicians and entertainment companies were selected based on customer service, flexibility, and creativity, and have entertained our guests for many years. Anita Dee can also accommodate any insured entertainer not listed below. Click here to download a copy of the non-preferred entertainment guidelines.
Photography and Videography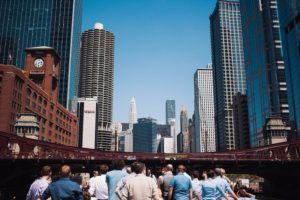 Anita Dee's has carefully chosen a list of preferred Photography or Videography companies based on several factors, including creativity and excellent customer service. They have previous experience working on our vessels and are aware of any rules and regulations with regard to drop off and set up.
Anita Dee's preferred photography and videography companies are happy to assist you and are dedicated to the highest level of satisfaction and service. Our preferred photography or videography companies are certain to capture all the memorable moments during your corporate event aboard an Anita Dee's private yacht charter in Chicago.
Decor
When you're planning a corporate event, you don't want to overlook a single detail. From the exquisite cuisine to the elegant decor, we know you want your cruise to be unforgettable, which is why each of Anita Dee's talented florists has been hand-picked, and are ready to provide you with the utmost level of service and satisfaction. Contact our event coordinator for more details.
On-Board Event Coordinator
We have an onboard event coordinator who is ready to assist our charter clients with all the details for your private Chicago boat charter if you just don't have a lot of time to organize your corporate event!
Consider a Chicago Yacht Charter for your Holiday Parties
Enchant employees, family, and friends this year with an unforgettable holiday cruise on one of Anita Dee Yacht Charters' beautiful boats as you enjoy Chicago's majestic skyline. Our team of knowledgeable staff will be ready to make sure that your event is smooth and enjoyable for you and your team. Break the mold of boring corporate events and host yours on a luxury yacht today.
Our yachts are available to cruise year round! Call us at (312) 379-3191 or click here to book now!