Celebrate Your Anniversary Aboard the Anita Dee Yacht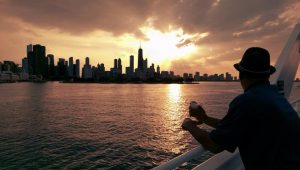 Have you been searching for a unique venue for your company's anniversary party? Are you looking for a venue that is above the ordinary, customized specifically for your private event?
Whether you are hosting an intimate gathering for board members only, or want up to 400 guests at your company's anniversary celebration, one of the Anita Dee vessels can accommodate your needs. We'll add all the special touches that make your event memorable and guarantee that you'll have the ship all to yourselves since we do not book multiple events on the same cruise.
To learn more about how we can help make your corporate anniversary party an event to remember, contact the Chicago Yacht Charters for Corporate Events group of Anita Dee Yacht Charters at (312) 379-3191 today.
Our Vessels
Anita Dee Yacht Charters is a family-owned business and is the leading private yacht charter company in the Chicago area. We pride ourselves on being able to customize your company's anniversary cruise to meet your needs. This includes the sailing route, decor, entertainment, menu details, and more.
You can also choose from several docking locations in the Chicago area or along Lake Michigan throughout Illinois, Indiana, and Wisconsin. Some of our more popular docking locations are McCormick Place, River Roast, The Sheraton Hotel, and The Horseshoe Casino.
If you are hosting a smaller anniversary party, you may enjoy sailing on the Anita Dee I. The yacht offers an intimate venue with plenty of space for you or your guests to enjoy a quiet moment. The Anita Dee II is a larger vessel that can accommodate up to 400 guests comfortably.
Each of our vessels has plenty of room for dining, entertainment, and socializing. Each yacht also has a full-service galley to accommodate the needs of the catering company you choose to prepare the food for your guests.
We believe that your anniversary party should center around the accomplishments of your company. As the host, you should be able to relax and enjoy the party, so we have an on-site coordinator on board before and during the event to be sure everything runs as planned.
Need Help Planning Your Event?
You can choose whether you want to organize the entire event yourself, get a little extra help from our onboard coordinator, or have the coordinator handle all the details of your event. We encourage you to be as involved in the planning process as you would like.
Our coordinator covers all the core features of planning an event and will make sure that you are satisfied with the plans. They will start with the basics to ensure you choose the right vessel to meet your needs and expertly move through our checklist to be sure that nothing is left to chance.
We have been providing cruises on private yachts for over three decades. Years of experience have taught us the best way to plan, organize, and execute a successful party. We are dedicated to hosting extraordinary events that you and your guests will talk about for years to come.
Possible Options for Your Anniversary Party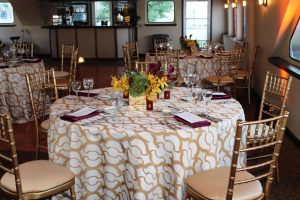 Anita Dee Yacht Charters is more than a private yacht and a fantastic venue. We're also a hospitality company that offers you the ability to customize your event to meet your needs. We offer a wide range of options, including:
Docking: Our boats are docked in the heart of downtown Chicago on the Chicago River along Lake Shore Drive. However, both vessels can dock in various locations in Illinois, Indiana, and Wisconsin. This means you can choose a location that is most convenient for you and your guests. Will also help you plan the direction of your cruise as well. Some of our more popular docking locations are McCormick Place, River Roast, The Sheraton Hotel, and The Horseshoe Casino.
Catering: Our first priority is to ensure your corporate anniversary party comes as close to perfection as possible. We have hand-selected some of the finest caterers in Chicago that offer you outstanding service and menu options. These caterers were chosen for their creativity, variety, and customer service. Our preferred caterers also meet insurance and licensing requirements, and they are happy to provide you with a high level of service and satisfaction. However, if you have a specific caterer you would like to work with, Anita Dee Yacht Charters can accommodate them if their license and insurance meet our company requirements.
Cakes and desserts: Your anniversary party would not be complete without an anniversary cake or special dessert created just for your company.
Audio and visual equipment: If your entertainment includes dancing, you'll be happy to know that the yachts are equipped with the latest audio and visual technology. Speak with our onboard coordinators as you're planning your event to arrange for microphones, music, or visual screens.
Setup and decor: The goal of any anniversary party is to have fun and celebrate accumulated years of success. Our yachts are set up to facilitate conversation and movement. Food and bar stations can be distributed throughout the yacht, so your guests are moving about, connecting, and having fun.
Host Your Anniversary Party With Us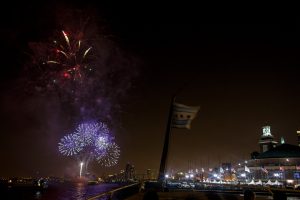 Your anniversary party onboard the Anita Dee I or Anita Dee II will exceed your guests' expectations. The keys to any great event are a fantastic venue, customer service, good food, and fun entertainment. We've got you covered with carefree relaxation and moments that will take your breath away.
When you book your corporate anniversary party with Anita Dee Yacht Charters, you'll have the option of booking an afternoon or evening party to accommodate your specific needs. When your party is on Wednesday or Saturday evening Memorial through Labor Day, you'll treat your guests to a front-row seat for the Chicago fireworks display.
Host your next corporate event with Anita Dee Yacht Charters
Our yachts are perfect for all kinds of memorable corporate events:
Customize your event with the many options we offer to make sure that every detail meets your objectives and standards.
Contact Anita Dee Yacht Charters
Your guests will be talking about your company's anniversary party for years to come. Our experienced and knowledgeable corporate events staff make your satisfaction our first priority. When you choose our unique private yacht charter, you enjoy privacy, freedom, and a touch of luxury.
Your private anniversary party is all about your company's success and longevity and our experts will help create an unforgettable experience. You and your guests will enjoy good food, good drinks, and great views as you enjoy each other's company. Anita Dee Yacht Charters is the perfect recipe for your event. Contact our experienced team today at (312) 379-3191.