Choose Anita Dee Yacht Charters for Successful Networking Events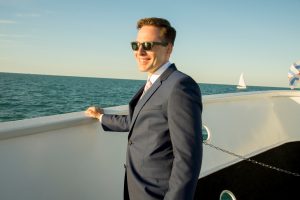 Want to host a memorable networking event that your guests will be talking about for weeks? Choose Anita Dee Yacht Charters for an extraordinary experience aboard a private luxury yacht. Your business guests will enjoy the Chicago skyline while rubbing elbows and exchanging business cards with new contacts in the Windy City.
Anita Dee Yacht Charters's fleet boasts two luxurious yachts – Anita Dee I and Anita Dee II – with top-of-the-line amenities that are sure to impress your guests. From start to finish, our experienced event planners will customize the experience to meet your goals and objectives, with flexible options and superior services to impress Chicago's business elite.
Whatever your industry or organization, Anita Dee Yacht Charters is Chicago's premier private yacht company for corporate events and we can accommodate your next networking event. Young professionals, corporate executives, local business owners, alumni associations, industry groups, job seekers, community members' groups, you name it – Anita Dee Yacht Charters can host them in luxury and style.
Contact our office today at (312) 379-3191 to get the event planning process started.
The Key to Networking Success
The key to a successful networking event is a must-see venue. What could be more intriguing than a private yacht charter cruising along Chicago's iconic skyline? When the people on your guest list see "Anita Dee Yacht Charters Yacht" as the location, they won't be able to skip this event.
The first step to planning a fantastic networking event is to call Anita Dee Yacht Charters and book one of our private luxury yachts. The next step is to work with our experienced event planners to envision, plan, and prepare for an incredible gathering that will have your guests mingling, chatting, and connecting with new people.
Our team has decades of experience in planning and delivering superb events and unforgettable experiences. We understand that when you are planning an event to impress a crowd, you want to choose a company that equally desires to delight your guests. Anita Dee Yacht Charters's highest priority is to ensure our clients' and their guests' enjoyment. Rest assured that we will go to any lengths to deliver the networking event that meets your goals.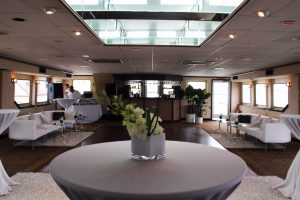 On the day of your event, an on-site coordinator will arrive early to ensure the yacht is fully-equipped and ready to host your guests. Throughout the event, your coordinator will be on deck to handle any issues or concerns that arise and keep the event running smoothly. They will also take care of all clean-up so that you can go about your business without having last details to worry about.
Options and Services
Anita Dee Yacht Charters is more than just a fantastic floating venue. We are a hospitality company that offers fully customizable events. We offer a range of options and services that can be tailored to meet your needs and fulfill the goals of your networking event. The following list highlights just some of the ways we can create a unique experience for your purposes:
Number of guests: Whether it's an intimate networking event for a small group of business associates or a large gathering for a city-wide industry group, Anita Dee Yacht Charters can tailor your event so that it is appropriate for your guest list. We have hosted groups as small as 50, as large as 400, and everything in between.
Date and time: Business breakfast, happy hour, evening networking – we can accommodate your event on any day or at any time that suits your group's needs.
Location: Our yachts are typically docked on the Chicago River at Lake Shore Drive, but we are happy to accommodate different docking locations around Chicago, such as McCormick Place, River Roast, The Sheraton Hotel, and The Horseshoe Casino. We can also dock at other locations on Lake Michigan, including other cities in Illinois, Indiana, and Wisconsin. With so many options, you can disembark and return to a location that's most convenient for your guests and choose a route that is sure to dazzle them and spark conversations.
Catering: Anita Dee Yacht Charters has pre-selected the finest caterers in Chicago that deliver the same top-notch service that you would expect from us. Our caterers can accommodate a variety of menus, cuisines, and bar packages. For networking events, we can also arrange the catering and drinks in a way that facilitates conversation and movement.
Audio and visual equipment: Our yachts are fully equipped with the latest audio and visual technology. Depending on the nature and goals of your networking event, Anita Dee Yacht Charters can arrange for microphones, music, presentation podium, visual screen, or similar equipment.
Photography and videography: To capture pictures and videos of your amazing networking event, Anita Dee Yacht Charters has a carefully curated list of preferred photographers and videographers that know the logistics of working on our yachts.
Set-up and décor: Since the goal of networking events is to network, Anita Dee Yacht Charters can tailor our yachts' set-up to facilitate movement and conversation. For example, high-top tables, lounge seats, and widely distributed food and bar stations can keep your guests moving around and meeting new people.
Event favors: Anita Dee Yacht Charters understands it's the small touches that leave a lasting impression. Whether it's branded tchotchkes, customized gift bags, sweet treats, or promotional materials, Anita Dee Yacht Charters can connect you with our premier vendors to design and produce your event favors. Our event planners will take care of the delivery and setup.
Let Anita Dee Yacht Charters Deliver a Fantastic Networking Event for You
If you are ready to host the best networking event that Chicago can offer, you have found the perfect venue. Anita Dee Yacht Charters has been in the business of delighting and impressing our clients and their guests for decades. Choosing a unique experience like our private yacht charter is the first step in planning the most popular networking event your group has ever had.
Good food, good drinks, great views, and even better company – Anita Dee Yacht Charters has the perfect recipe for your successful networking event. Contact our experienced team today at (312) 379-3191.