Deerfield Private Yacht Charters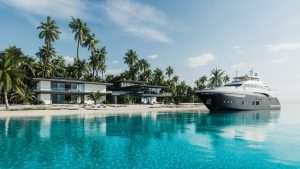 Are you looking for a memorable and once-in-a-lifetime experience for your upcoming event in Deerfield? For nearly four decades, Anita Dee Yacht Charters has provided customizable events on board one of our two private luxury yachts.
We know that you put a lot of time and effort into planning your event. We want it to go off without a hitch for you. Our clients work together with our onboard coordinator, who strives to make every detail of your event match your vision.
We work together with you on every detail, from the decor to the cuisine, to create an evening your guests will treasure forever. We recognize that you have a choice of venue for your event. We believe that Anita Dee Yacht Charters offers you the best venue choice for private parties, wedding receptions, or corporate events.
We can accommodate gatherings of nearly any size, from an intimate party for two to a lavish event with 400 guests. When you want to leave a lasting impression, contact our office at (312) 379-3191 to learn more about how we can help you create a memorable and unique event.
Why Choose Anita Dee Yacht Charters?
Anita Dee Yacht Charters is a family-owned business that's been part of the Chicago area private yacht rental industry for nearly 40 years. We believe that you deserve a party that exceeds your expectations in every way.
You and our onboard coordinator will choose the date and time, cruising route, food, entertainment, decor, and more. Both of our luxury vessels are equipped with state-of-the-art entertainment systems and a full-service galley to meet the needs of your guests. Whether you choose the Anita Dee I or the Anita Dee II, you can relax and enjoy an unforgettable evening with your guests.
Anita Dee Yacht Charters Services and Events
Your event should come off without a hitch, and it should be fun. Our staff has been in the hospitality business for nearly four decades and has experience meeting our guests' requirements for an evening that will wow your guests. We are prepared to accommodate the following types of events. If the event you're planning isn't on the list, call us, and we'll plan the event of your dreams.
Weddings: Your wedding is a day you'll remember for the rest of your life. Our luxury yachts are perfect venues for the wedding and the reception. There is a complimentary Bridal Suite aboard the vessel where the bridal party can get ready before the wedding.
Our onboard coordinators will help you plan, prepare, and execute your ceremony and reception. If you have guests who are not at the ceremony but plan to be at the reception, we'll go back and pick them up.
Our luxury yacht rental adds a touch of elegance to your rehearsal dinner, bridal shower, or post-wedding brunch at a cost that is not nearly as much as you might think. Call us today to plan a truly memorable wedding.
Parties: One of our luxury yachts is a truly unique party venue with exactly what you need to impress your guests. Our onboard coordinator will work with you to help customize every detail to fit your vision of your party. Whether you're planning a birthday, reunion, fundraiser, baby shower, or bachelor or bachelorette party, it can become the social event that you envision.
Corporate outings: A private yacht experience is perfect to entertain your clients or engage with your employees. We can host a range of events that include board meetings, networking receptions, company launches, and much more.
Our state-of-the-art sound system ensures that no one on board will miss anything. Your clients, colleagues, and employees will enjoy beautiful decor, fine dining, and the unique details that make your event stand out. Our premier yacht charters leave a strong impression and make your presentations pop.
Special events: The events you plan are special. Consider scheduling them when Chicago offers special events that are fun to experience from the water. For example, the annual 4th of July fireworks, New Year's Eve party, or the Chicago Air and Water show are unique experiences when viewed from onboard Deerfield, Illinois, premier yacht charter vessels.
Choose from Handpicked Florists, Caterers, Entertainment, and More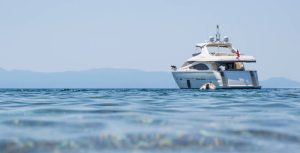 Anita Dee Yacht Charters specializes in providing a unique venue for your parties and events. We work together with other professionals to create an atmosphere that your guests will remember. Our onboard coordinator will collaborate with you to choose from some of Chicago's finest caterers and chefs to wine and dine your guests. They will create a meal that your guests will remember.
Likewise, we work with a list of florists who can provide your event with fresh flowers to augment the decor. They help connect an indoor event with an outside feel and contribute to the atmosphere.
Hiring a professional photographer or videographer can help record your event and give your guests something with which they could remember the best parts of the evening. Unique images of a corporate event can be used in social media posts and marketing messaging materials.
Our sound system gives you the opportunity to entertain your guests with lively dance music, relaxing background music, or other entertainment options of your choice.
Our company has chosen from among a list of florists, entertainment, photographers, and videographers based on the creativity, flexibility, and variety they can provide for you. We can also work with service providers of your choice when they meet the standards set by our insurers. Talk with your onboard coordinator to get the details.
Call Anita Dee Yacht Charters Today to Plan Your Memorable Event
A luxury yacht rental is a unique and memorable way of celebrating your special events. Whether you are planning a once-in-a-lifetime party, wedding, or hosting a corporate outing, our premier yacht rental can provide you and your guests with an event they will never forget.
Our yachts can accommodate up to 400 guests, and our team will work diligently with you to meet your vision. To book a private yacht event contact Anita Dee Yacht Charters at (312) 379-3191 today.