Lake Forest Premier Private Yacht Charter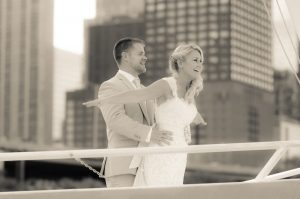 For nearly four decades, Anita Dee Yacht Charters has consistently provided customizable events aboard our two private luxury yachts. Our goal is to meet our clients' objectives, paying special attention to every detail. We understand the importance of your event, so we take extra time and effort to ensure that not one detail is overlooked.
Whether you choose the Anita Dee I or the Anita Dee II, you'll treat your guests to a stunning view aboard a yacht decked out with elegant decor and serving exquisite cuisine. When you want your event to be unforgettable, consider booking one of our luxury yacht charters.
Anita Dee Yacht Charters doesn't just charter yachts. We are hospitality specialists with four decades of experience providing one-of-a-kind luxury experiences. Our clients book corporate events, parties, weddings, and any other type of social or business gathering.
We accommodate any size gathering from two to 400 guests. When you want to leave a lasting impression on your friends, family, or business clients, contact our office at (312) 379-3191 and learn more about how we can help you create fantastic events.
Anita Dee Yacht Charters Services and Events
When you're looking for a way to escape Lake Forest and enjoy a beautiful view of the Chicago skyline, you will want to choose Anita Dee Yacht Charters. Our family-run business has developed the fine art of creative customer service.
Our team leads the Chicago yacht rental industry in service, innovation, and customizable events. We are experts at planning different types of events, from weddings to corporate outings, and are fully prepared to accommodate the following types of activities:
Weddings: Our luxury yachts make the perfect venue for your wedding and reception on the water. There's no additional fee for the ceremony on the vessel and there's a complimentary Bridal Suite where the bridal party can get ready before the wedding. If you have guests who are not at the ceremony but plan to make it to the reception, we can go back and pick them up. Our hospitality specialist can help you plan the finest wedding celebration, including bachelor or bachelorette parties, rehearsal dinner, bridal showers, wedding ceremony, and post-wedding brunches.
Corporate outings: No matter the size or purpose of your outing, Anita Dee Yacht Charters can help design an unforgettable cruise. Our business cruises provide the perfect backdrop for your client meeting, corporate event, product launch, employee recognition event, or to seal a new contract. Whether you're planning a breakfast meeting, dinner outing, or somewhere in between, we are ready to help host a memorable outing.
Parties: Anita Dee Yacht Charters offers a unique venue that we design and customize to fit your vision. Parties come in all shapes and sizes, and we want you to know that your social event is our priority. Whether you're celebrating a birthday, anniversary, or reunion, you'll want to provide your guests with a memorable experience. We can accommodate a wide variety of events, from fundraisers to formals and post-prom night cruises.
Special events: When you're looking for a personalized venue for your event, think of Anita Dee Yacht Charters. Choose your date to coincide with the annual Chicago Fourth of July celebration or Air and Water Show display, which you can see from onboard one of our luxury yachts. If you're thinking about where to host your New Year's Eve party or Memorial Day events, look no further.
Why Choose Anita Dee Yacht Charters?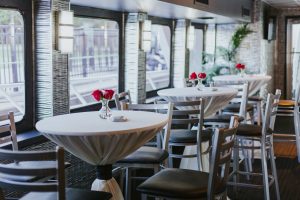 You have a choice of venues for your event, and we know it. Yet, once you discover what Anita Dee Yacht Charters has to offer, you won't want to look anywhere else. Whether you're looking for carefree relaxation with your friends and family or an evening adventure, Anita Dee Yacht Charters is the ultimate escape from Lake Forest.
We can ensure that your event meets your planning vision. You have the option to choose cruising routes, floor plans, entertainment, bar service, menu, and decor. In fact, it's our goal to ensure that you have the final choice in every aspect of your event.
Anita Dee Yacht Charters Catering
Sometimes the most difficult choice you'll make for your event is the food you're going to serve your guests. Our experienced staff can help you evaluate the generous range of catering choices we offer. We will work with you to ensure your menu fits your specifications and the needs of your guests.
From breakfast to dessert, we have taken the time to hand-pick some of the finest catering services in the Chicago area. Each of the services meets our liability and insurance needs. Your guests will enjoy award-winning cuisine that's guaranteed to dazzle and surprise their palate.
Anita Dee Yacht Charters Photography and Floral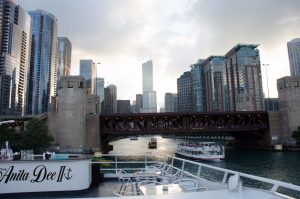 It takes time and patience to create your unique event. It's important to remember that photographers and videographers can help record your special outing. Business and corporate events find photography builds credibility and provides great marketing material.
No matter what your event, hiring a professional photographer or videographer offers a lot of benefits. Guests love having a remembrance of the best part of your event, and images can help make memories. If your excursion is celebrating a product launch, professional-quality photos can add unique images to your content and social media posts, as well as bring your product to life. Weddings, birthday parties, and anniversary parties all benefit from professional photography.
Fresh flowers are another added benefit for your decor. They're beautiful, simple, and help connect an indoor event with an outside feel in a warm and welcoming manner. They help boost your mood and contribute to the atmosphere of your event.
Anita Dee Yacht Charters has chosen florists, photographers, and videographers based on customer service, variety, creativity, and flexibility the service providers can bring to your event. We can also work with any photographer, videographer, or florist of your choosing that is licensed and insured to meet our liability requirements.
Anita Dee Yacht Charters Entertainment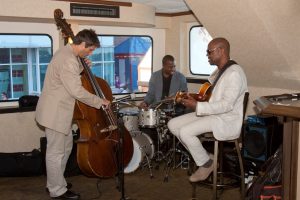 When your event would benefit from unrivaled entertainment, Anita Dee Yacht Charters has you covered. Our yachts are outfitted with top-of-the-line audio and visual systems that can fill the vessel with music. Soft music makes a wonderful backdrop for intimate conversation. If you are going to incorporate dancing into your events, we can help with that, too.
Entertainment plays an important role at corporate events as it strengthens your relationship with your clients and customers. A successful outing is one that your attendees will never forget. One key factor to create a memorable corporate event is to engage your clients and customers with enthusiasm and fun. Good entertainment fits the bill.
Anita Dee Yacht Charters Onboard Coordinator
It is our goal that your events meet your vision and come off without a hitch. To accomplish this, we have an onboard coordinator who can help you plan your event from start to finish and will be available on board the vessel during your cruise. Whether you want to be in control from the very start or just be available to make decisions, Anita Dee Yacht Charters has a hospitality specialist whose goal is to meet your needs.
Contact Anita Dee Yacht Charters
Choose a luxury yacht rental to celebrate your special outings and events. Your guests will be treated to a fantastic party with a view of the Chicago skyline. We work diligently to ensure that your event is unforgettable and unique.
To get more information or book a private yacht event aboard our beautifully appointed vessels, contact Anita Dee Yacht Charters at (312) 379-3191 today.