Luxury Yacht Charters in Glencoe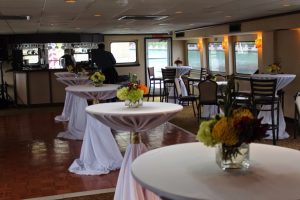 Bringing relatives, guests, and clients to Chicago is a memorable experience. When it comes time for your guests to depart, they should have an equally memorable sendoff, and what better way to do it than with a catered meal aboard a charter yacht?
For more than three decades, Anita Dee Yacht Charters has provided our clients and their guests with customized weddings, events, and parties aboard two exclusive venues. We strive to make every detail match your specific request. From the decor to the cuisine, everything will frame the backdrop of the Chicago skyline. An evening aboard one of our two vessels, Anita Dee I or the Anita Dee II, will be an experience your guests will treasure forever.
The owners of Anita Dee Yacht Charters have been providing outstanding hospitality services in the Chicago area since 1979. They know everything there is to know about giving our clients a customized event experience. Whether you want to host an intimate wedding reception or a corporate awards dinner, we can help make it an evening everyone will enjoy.
Call our event coordinators at (312) 379-3191 or contact us online and they will get to work making your plans come to life.
Why Choose Anita Dee Yacht Charters?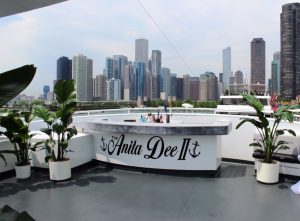 Planning a special event is hard work. Everyone wants their party or banquet to stand out from last year's event. The trouble is, there are only so many different ways to design a dinner in a banquet hall or restaurant. When you plan a wedding or a retirement banquet, you want something even more exciting.
The answer is right in our backyard. Why settle for a banquet room when you could be floating on the sparkling waters of Lake Michigan? Our hospitality coordinators will help you plan your event from the date and time, the pickup points, and the food, drink, and entertainment. Best of all, you'll have the spectacular Chicago skyline as your backdrop. You will have created an event that will be remembered by all.
When it's time for meals, Anita Dee Yacht Charters provides you with your choice of a full-service galley or a hand-picked roster of Chicago's finest gourmet catering services. Our crew will serve you and your guests whatever choice of food and drink you select. Our entertainment system is state-of-the-art and will complete your evening's enjoyment.
Charter Services
Special events should be both memorable and fun. Our owners and staff have been in the hospitality business for more than four decades, and they know how to meet all your requirements for an evening of merriment. Our two yachts can accommodate up to 400 guests for any of these events.
Preferred Catering Services
Wining and dining your guests is a key part of any special event. When you come aboard our yachts, you want everything to be just right. Anita Dee Yacht Charters has taken advantage of our decades in Chicago to link up with some of Chicago's finest caterers and chefs, and they will guarantee you a meal to remember. Our event coordinators will give you a hand-picked list of preferred caterers who are licensed and bonded to work aboard our yachts.
If you prefer your own chefs, we can accommodate that too. Just ask when you call our booking staff, and they can explain how to arrange for your own people to create the menu you desire. We have a full-service galley that will allow any chef to show off their skills.
Entertainment, Photography, and More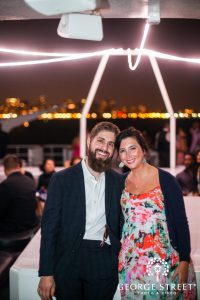 No night of entertainment can be complete without music and dancing the night away. Both the Anita Dee I and II have full-scale sound systems that carry music throughout the ships. We keep our systems fully maintained and regularly upgraded for a top-end experience no matter when you arrive.
If you need a PA or other multimedia system for a presentation or awards ceremony, our staff can help you set up your equipment to bring the sound and images to everyone on every deck. Audio and visual setup is no problem aboard the yachts, and all your guests can see what is happening in the main room.
If you want to bring your own photographer, that's fine with us, if they have the necessary equipment and licenses. But if you need someone to document your event and aren't sure where to turn, no need to panic. Our event coordinator can give you a list of our preferred photographers and videographers who are already familiar with the ships and the best places to set up aboard the vessels.
Make Your Event Special. Call Anita Dee Yacht Charters Today
A cruise along the shore of Lake Michigan is truly a once-in-a-lifetime experience. It's a great way to celebrate a wedding, make an impact on guests, or host a corporate event that will leave a lasting impression on everyone who attends.
Both yachts can make multiple stops at docks along the way, guaranteeing that your progress will be seen and noticed by everyone. Fundraising and business meetings become media events every time the ship comes to shore. Or your wedding party can stay safely on the water, away from prying eyes. Your choice.
Call our event coordinators today at (312) 379-3191 to book your private yacht rental with Anita Dee Yacht Charters. The magic starts today for your unforgettable experience.