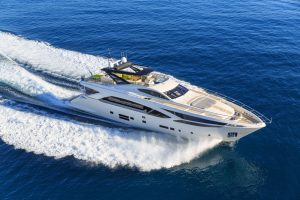 The holidays are around the corner. The anniversary of your company's founding is several months away. Employee appreciation day or week is near. Or maybe, for no particular reason, you want to show your employees that you value them.
The days of potlucks are gone and a pizza party is much too common to show the level of appreciation you have for your team's hard work. So how can you show your team exactly what they mean to you? Consider chartering a private, exclusive yacht for a beautiful day or evening to cruise the Chicago harbor! There are many benefits to showing your team and employees that you value them and the hard work they do to make you and your company successful.
Boost Morale
Giving your employees or team something to look forward to can boost their morale. Hosting an event for them on one of our beautiful yachts can bring everyone together, where they can bond with one another and let their hair down. A chartered yacht event can also make your team or employees feel great about where they work. And when employees feel good about the company they work for, it increases their collective morale, which in turn, increases productivity. When the productivity of your employees increases, so can the success of your company.
Get out of the Office
Ordering pizza for your employees in the office is fun, but a chartered yacht sailing past the beautiful Chicago skyline is an unmatched change of scenery. You and your employees are used to working at the office or wherever the place you get your company's work done is. When you want to treat your employees, you need a change of scenery. Host an event somewhere that's the complete opposite of what you're used to day to day. The skyline and views from the Harbor are breathtaking. And you'll probably get bonus points for your employees if your event aligns with the time that the sun sets. Watching the sunset on a luxurious yacht with decadent decor and gourmet food is enough to motivate almost anyone!
Team-Building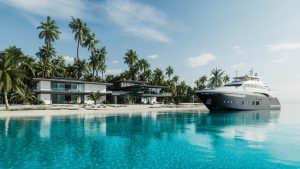 There's a natural professional hierarchy at many companies and on many teams: from executives to other leadership positions to employees to staff. A company event on a yacht is a great venue to bring everyone together, so that everyone feels like a team. It allows your employees to mingle with one another and with those in leadership, and to get to know each other outside of a workplace setting and relationship structure. They'll know that you care about them and that everyone has the same objective when they're at work.
Show Appreciation
Want to show your team how much you value them? Host a private company event on an exclusive, grand yacht. While we offer affordable prices for our top-notch services, accommodations, gourmet food, and entertainment, your employees will think that you spared no expense to shower them in appreciation.
Why Charter a Anita Dee Yacht Charters Yacht
We're the finest private yacht charter in Chicago. If you want to host a memorable event full of luxury for your guests, organization, or company, then Anita Dee Yacht Charters has your perfect venue.
After repeatedly renting yachts to host events for his own clients, Tony Difligio, along with his wife Anita Dee, saw an opportunity to start a luxury yacht chartering service in Chicago. They decided to fill the niche. That was over 30 years ago.
They purchased their first yacht, a 90-foot vessel that carries up to 127 guests, and named it after Anita: the Anita Dee I. It wasn't long before their reputation spread far and wide and they had to buy a new, bigger, 140-foot-long vessel, the Anita Dee II.
The Difliglios have dedicated their lives to providing excellent hospitality and customer service on their yachts. Hundreds of events are held on the yachts every year, where guests enjoy a wonderful experience in the center of the beautiful city of Chicago.
Anita Dee Yacht Charters is family-owned. Today, Tony and Anita's daughter and grandchild help run the company. They've been facilitating and curating a space for people to host incredible events for decades. If you want to hold an event customized to your liking that exudes luxury, Anita Dee Yacht Charters is the place to go. Get in touch with us today.