How to Make Your Yacht Wedding One to Remember
Planning a wedding is an exciting time in anyone's life. You want it to be a memorable occasion for your family and friends. Many couples decide to elevate their wedding plans by having their ceremony and reception on a yacht. A yacht provides the picture-perfect backdrop for photos and a unique ambiance to celebrate the next chapter in your life.
Although you have already picked the venue, you need to plan all other aspects of your wedding. Inviting everyone onto a yacht isn't enough to ensure an exciting and fun-filled excursion. You must make decisions regarding food and drinks, music, and décor. Without the necessary preparations, you can't bring your visions to life.
Below are the tips you should follow while planning your wedding on a Chicago luxury yacht from Anita Dee Yacht Charters to make it a night you will never forget.
Determine Your Budget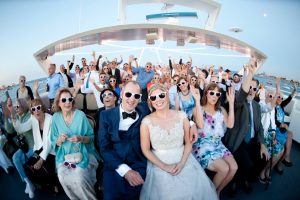 Weddings are expensive. You should decide on a budget before planning all the other elements of the event. The guest list can significantly influence how much money you spend. Take a headcount of the people you intend to invite. You need an estimate of the cost of having everyone aboard and the food and alcohol necessary to accommodate your guests.
Some people want a big celebration with everyone they know. Others choose a more intimate affair with a few close friends and family members. You must lock down these details to know if the expenses you incur will stay within your budget. If you can't afford the price of everything, you might have to cut some people from the guest list or opt for a smaller and less intricate cake.
Set the Mood with the Right Location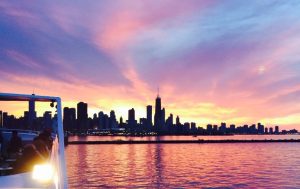 Choosing a yacht as your wedding venue means you can pick the route it takes. You should focus on a location that sets the mood for the entire event. You can choose to cruise by the coast, so the lit-up skyline is behind you. Or you can opt for a sunset wedding, so your pictures include stunning views of the sun going down as you're traveling along the water.
Your guests won't stop talking about the 360-degree view while aboard the yacht. It's sure to be breathtaking and memorable. You could take in the beautiful architecture as you cruise the Chicago River or cruise near the Chicago lakeshore. The options are limitless.
Some of our more popular docking locations are McCormick Place, River Roast, The Sheraton Hotel, and The Horseshoe Casino.
Choose Décor to Complement Your Theme
Whether the theme of your wedding is warm and traditional or eclectic and wild, your décor should reflect that. You and your wedding planner can coordinate with the Anita Dee Yacht Charters event planners to pick out the flower arrangements, table settings, and other accents that set the tone of your wedding.
Consider the size of the yacht and the number of rooms or areas available for you and your guests. You can choose multiple themes if you want a romantic and warm setting for the ceremony but a bright and entertaining place for the reception. Look at the space with your wedding planner and the Anita Dee Yacht Charters event planner to make full use of every railing, table, and nook you can use to create the ambience you want your guests to enjoy.
Decide on a Day or Night Wedding
You can enjoy different types of sights during the day and at night. Nighttime weddings offer sunsets and skyline views. Daytime weddings provide the necessary visibility to see architecture and skylines, as well as vast lake views.
Think about what you want your guests to see during the celebration. The time of day you pick can also influence the vibe. Afternoon weddings can be casual, light, and airy, while weddings that occur after the sun goes down can provide a party atmosphere so you and your guests can dance the night away.
Select Experienced Vendors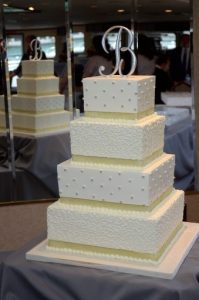 A reception is a time when everyone can mingle, dance, and eat delicious food. Feeding your guests is important. The Anita Dee Yacht Charters event planner can show you and your wedding planner a broad selection of pre-screened caterers and bakers. You can plan a menu that goes with the venue and matches the décor you choose. It might be a good idea to offer multiple options to cater to different tastes, allergies, and dietary restrictions.
You can also talk with the event planner about the entertainment. Anita Dee Yacht Charters has a select group of entertainment providers we've worked with. Whether you decide to go with a band or DJ, the music you choose can affect the mood of the room. You can ask for upbeat songs that get everyone on their feet or low-key instrumentals to create a laid-back atmosphere. The possibilities are endless.
Contact Us
At Anita Dee Yacht Charters, we have provided Chicago luxury yacht rentals for weddings to clients in Chicago for over 31 years. We will customize each option to meet your needs and create an event you will remember for years to come.
If you want to plan your wedding on a yacht, contact us by calling (312) 379-3191 to learn more about us and what we can do to make your wedding a spectacular celebration.