Social Events on a Yacht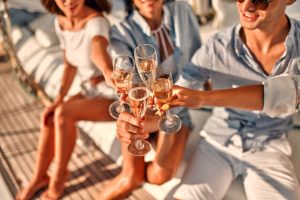 Not all special events coincide with holidays or are organized affairs like family reunions. Sometimes you may just want to get your family, friends, and neighbors together for something more than a backyard barbecue or block party. Maybe you'd like to do something unique for everyone who works with you that isn't as stuffy as an office party.
At Anita Dee Yacht Charters, we've been helping people plan exciting cruises on our charter yachts for more than 30 years. We provide you with top-of-the-line hospitality service in an unforgettable setting: a private yacht cruising the Chicago shoreline. Call us at (312) 379-3191, and we can get you started creating a social event to remember on a Chicago private boat charter.
Creating a Memorable Experience
When you're setting up a social occasion, you want something for everyone. You'll need delicious food, beautiful décor, activities, and entertainment. When you choose us for your locale, you've already taken your first step into making your social event a truly remarkable affair.
Food and drink are always foremost in any event planner's mind. You can choose from our list of hand-selected catering services, providing everything from a casual buffet for large parties to a full sit-down meal for that elegant touch. Full bar service is available through request with our staff.
Whether your social event is a morning cruise or an evening gala, our caterers have been carefully vetted for their ability to provide meals that will complement any dining request. If you want a gourmet brunch or starlight sushi bar, our yachts can accommodate your guests' appetites.
If you prefer to provide your own meal service, your chosen insured catering service can use our galley for an additional fee.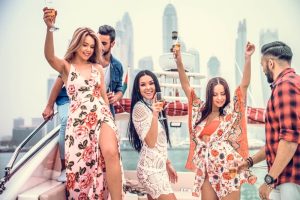 Entertainment should complement your night on the water. Both of our yachts, the Anita Dee I and Anita Dee II, have state-of-the-art sound systems, providing you and your guests with music throughout the entire ship. The Anita Dee I has a spacious dance floor with room for your guests to dance the night away. If you want to provide your own entertainment, the Anita Dee II even has a piano for live musical accompaniment.
We'll provide you with an approved list of entertainers who are familiar with our yachts and sound systems, or you can bring your own insured DJs for an additional fee.
Flowers and décor are an integral part of your event. They should be tasteful and match your theme but not detract from the overall experience. We can give you a list of our approved florists who know our layout and delivery requirements. Whether you bring your own decorations or request help from our event staff, we'll make sure that everything is in place in time for your event to begin.
Planning Your Social Event
Not everyone has the know-how to create a shipboard social event. That's all right. Anita Dee Yacht Charters has professional event coordinators who can assist you with all the details of your social event. We have a full staff of hospitality specialists who can help you bring your vision of an amazing social event to life.
Our planners have been doing this since the 1980s, and we know that our guests want to make each event unique. Our goal is to help you create a memorable experience for your family, friends, and neighbors.
Aboard the Anita Dee
Anita Dee Yacht Charters began as a side business in 1981, when owners Tony and Anita Defiglio bought the yacht that became the Anita Dee I. They began offering yacht charters along the Chicago shoreline, with an emphasis on luxury and guest amenities. Before long, they added the 400-passenger Anita Dee II to the business and continued cruising the beautiful Lake Michigan waters.
The yachts are now docked at the DuSable Harbor and can be put in at many locations on the riverfront for our guests' convenience. Whether you want to stop and enjoy the view or take a leisurely cruise along the shore, your tour will be a visual delight.
Other Ways to Make Your Event Special
Now that the worst of the COVID emergency has passed, people want to get out more and enjoy the sights. The old standbys of karaoke and dinner dances are old hat but put them on the water with the Chicago skyline as a backdrop, and those old standbys take on a new glow.
Other possibilities aboard our yachts might include:
Fancy dress ball. Take advantage of the Anita Dee I's dance floor and have your guests arrive in gowns and white ties. For a more humorous take, have a costume ball instead!
History tours. These tours are a wonderful way to experience the Chicago shoreline while out on the water. Bring along a historian or architectural expert and give your guests a lesson on the view as it passes by.
Highlights in the sky. The weekly Chicago fireworks displays and the annual Air and Water Show are amazing opportunities for a once-in-a-lifetime social event. The fireworks displays are held Wednesdays and Saturdays between Memorial Day and Labor Day, and both these events can be viewed from the decks of our yachts.
No matter how you decide to make your social event memorable, we'll make sure that it runs smoothly and enjoyably for you and your guests. It will be a day or night you will treasure always.
Contact Us
Anita Dee Yacht Charters offers full-service packages with all amenities for both the Anita Dee I and Anita Dee II, including catering and bar service, or you can provide some or all the services yourself. Our event staff will cheerfully work with you to ensure that all your plans are implemented and that every detail is tended to.
When it's time to make those special memories, call Anita Dee Yacht Charters and book a private cruise on one of our yachts. You and your guests will enjoy something unique: a special occasion you will look back on forever. You don't need to wait for a holiday or awards banquet. Just celebrate summer and family and friends.
To schedule your private yacht cruise and talk to our event coordinators, contact Anita Dee Yacht Charters by calling (312) 379-3191 or reaching out to us online. We are waiting to hear from you.