What Is a Chicago Architecture Yacht Tour?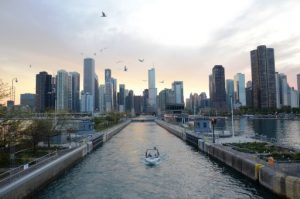 Are you looking for a luxurious escape in the heart of downtown Chicago? Are you ready to be treated to a relaxing experience customized to your every desire? Do you love delicious catered food served at your convenience? Do you want to enjoy all of the above while gazing at the beautiful, unique, and mesmerizing architecture that makes Chicago one of the best places to visit? If so, charter one of our gorgeous yachts and enjoy a peaceful and relaxing cruise along the Chicago River. You can dine in luxury while appreciating the design and beauty of some of Chicago's most famous buildings.
What Sights Will You See?
We are proud of our history here in Chicago. Despite the loss of some 17,500 buildings during the Great Chicago Fire of 1871, a group of resilient builders and designers began the process of rebuilding Chicago into the impressive masterpiece of architecture that we see today.
Even when faced with the setback of the second fire of 1874, the persistent people of Chicago did not give up. Because of their determination and hard work, we can enjoy and appreciate magnificent examples of architecture along the river. In addition to the buildings that make Chicago known to all, you will enjoy seeing lovely residential buildings and historic bridges on our architecture yacht tour.
While relaxing in comfort in the air conditioning or comfortably lounging on our yachts' observation decks and enjoying a refreshing breeze, you will have the opportunity to appreciate some of Chicago's world-renowned buildings. Some of the many well-known buildings along the Chicago River include the following:
The Wrigley Building
The John Hancock Center
The Willis Tower
The Merchandise Mart, now known as the MART
The Tribune Tower
Our architecture yacht tours involve more than just looking at buildings. They provide you and your guests the opportunity to learn about Chicago's history while absorbing the designs and vision of the architects and engineers who made Chicago the city we know and love. You will be able to reflect on the Wrigley Building, which was first partially opened back in 1921. This impressive building, which according to its website, was constructed with "more than 250,000 glazed terra-cotta tiles produced by the Northwestern Terra Cotta Company" has massive towers joined by raised walkways.
You can also marvel at the exposed trusses and slanting lines of the John Hancock Building. Up to 1996, the Willis Tower, formerly the Sears Tower, was the world's tallest building. Wrap your mind around the impressive 4.2 million square feet of theMART, which is as large as two city blocks. The Tribune Tower began with an international contest for the design of a new building in 1922. From this colorful beginning now stands a 36-story gothic masterpiece. These are but a few of the many buildings you can see in the fantastic views available onboard our beautiful yachts.
Why Choose an Architecture Yacht Tour?
The wonder and beauty of the many buildings along the Chicago River engender an appreciation for their brilliant architects' and engineers' hard work and determination. Appreciating these magnificent works from a luxury yacht allows you an uninterrupted, relaxing view without the hassle and distraction of crowds, street noise, and traffic. Anita Dee Yacht Charters offers a fully customizable experience where you can choose the route and departure time that you desire. You may choose a morning, afternoon, or evening cruise for your convenience. Cruising along the Chicago River with your guests offers an ideal way to enjoy some of the best that Chicago has to offer.
Our affordable yet luxurious charters are tailor-made for your enjoyment. We can host up to 400 guests for your event, whether corporate or social. We even offer an onboard event coordinator to help plan every detail of your event. We also provide a vetted list of available caterers and entertainment suggestions. If your goal is a more intimate event, we stand ready to make your gathering perfect in every way imaginable.
Our charters are perfect for a few companions or for many guests. We can provide the venue for an event for your most important clients or a party to demonstrate to your employees just how much you value their dedication. A Chicago architecture tour onboard one of our luxury yachts is the perfect way to provide a memorable and enjoyable experience for all.
Contact Us
Contact Anita Dee Yacht Charters at [phone number] to plan your perfect architecture yacht tour along the Chicago River. We are ready and able to make your next event an experience that you and your guests will not forget.