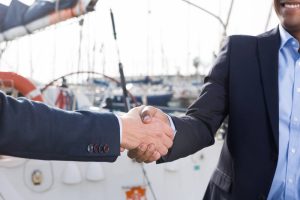 As an executive, you're likely always thinking about how to innovate and grow your company. You're probably having many meetings every week with other executives and employees.
So when you have a big meeting where you're selling the prospect of working with your company or selling your product, you may contemplate when and where to meet with your (fingers crossed) future business partner or client. Maybe you usually have these meetings at an upscale restaurant or business lounge. Or maybe it's common for you to hit the green and discuss business over a round of golf. But what about chartering a yacht?
Here's why a yacht may be the perfect venue for you to make the sale or close the deal.
Change of Scenery
Your future business partners or clients might be familiar with being wined and dined by executives seeking their business or patronage. If you want your meeting to be remembered, maybe a change of scenery could solidify your meeting in the executive's or client's minds.
Even a colorful establishment with the finest fish and steak can seem ordinary to other business executives. Think about the number of times you've met at a restaurant for a lunch meeting or gone to dinner at a restaurant with friends. When you're seeking someone's business, you want to stand out. Nothing stands out more than the scenery and views from a yacht.
You can pitch your company to your future business partner or client while sailing past the beautiful Chicago skyline. The bustling of the city and beautiful skyscrapers can be a symbol of success — success that you want to convince your potential business partner or client is all but certain if they go into business with you.
Something to Talk About
When you're first meeting your prospective business partner or client, you may not want to jump right into your sales pitch or start discussing the highlights of your business right out of the gate. Of course, you'll exchange pleasantries. But beyond that, you can open the floor to discuss all of the beauty of the sights you're seeing across the water while you're on a Anita Dee Yacht Charters yacht.
Privacy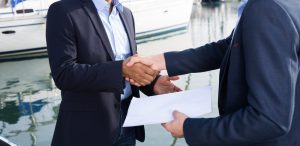 It's hard to discuss numbers and private or proprietary details about your company when you're squeezed into a room in the corner of a restaurant with other patrons sitting at tables within earshot of you and your guests; especially if it's a lunch-time or dinner-time meeting when restaurants can be their busiest. Even a conference room at a hotel lacks privacy, not to mention it tends to feel cold and impersonal.
A chartered yacht will provide you with the privacy you need where you can discuss your business in the middle of the Chicago River. You can count on only your guests being within earshot of your pitch on our exclusive yacht where you'll have the entire vessel to yourself and your guests.
Commitment to Closing the Deal
There's nothing much more impressive than chartering a yacht to woo your prospective business partners or clients. Hosting your meeting or corporate event on a yacht shows that you've prepared and planned for this meeting and represents the seriousness with which you take earning their business or patronage. From the elegant decor to the classy entertainment and the gourmet food, it will appear as if you haven't spared any expense. And sometimes that is worth just as much as what you say to them.
Why Charter Our Yachts
Anita Dee Yacht Charters is the premier charter yacht service in Chicago. If you want your organization's or company's name to be synonymous with luxury, look no further than Anita Dee Yacht Charters.
Over 3 decades ago, Tony Difligio recognized a need for a luxury yacht chartering service in Chicago after trying to rent yachts to host events for his own business' clients.
He purchased a 90-foot yacht and named it after his wife, Anita Dee. Ten years later, the Difligios' yacht charter business had become so successful and business and demand had grown at such a large scale, that they expanded their business by ordering a new and bigger, 140-foot long yacht to be built from scratch. This yacht was aptly named the Anita Dee II.
Both Tony and Anita obtained their Charter Boat Captain's licenses from the Coast Guard and dedicated their lives to providing high-class entertainment and service on their yachts. Today, Anita Dee Yacht Charters serves thousands of guests every year aboard their yachts, which are docked in the center of downtown Chicago.
The family-owned and run business has been helping people, organizations and companies host memorable, fully-customizable events at affordable prices for decades. Beautiful scenery combined with top-notch hospitality service and impeccable catered, gourmet food, Anita Dee Yacht Charters is the perfect venue to hold your event.