Best Time of Year for a Chicago Yacht Tour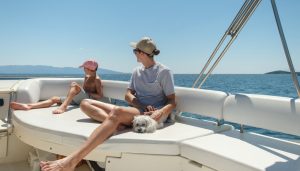 Anytime is a great time to see the lights and bustle of one of America's finest cities from a fine luxury yacht. Depending on the time of year you choose, however, you may be able to add new, breathtaking opportunities and experiences to your chartered yacht tour. The founders of Anita Dee Yacht Charters are nearing the fifty-year mark of planning successful private excursions for a variety of different events and would like to offer you advice on the best times of year for your tour.
Consider the Chicago Climate
Like much of America's northern heartland, Chicago lies in a continental climate zone. Our summers are moderately hot and humid, with average highs reaching the upper eighties in July and August. These temperatures may seem torturous inland, especially if you come from a cooler climate. However, the fresh lake air moderates the heat, making for a relaxing tour for you.
Consider the Season and Crowds
Chicago's sailing season is limited to six to eight months each year. As we move toward thaw in April, sailors, anglers, water skiers, and seaplane pilots will gather for their chance to enjoy the water. They'll continue until November, when the lake begins to freeze once again.
If you'd prefer to have more space to yourself, we recommend scheduling your cruise at the beginning or end of the sailing season, either in April-May or in October-November.
It's not unheard of that we're asked about winter cruises. They can happen depending on the year, and if the conditions are right, you can enjoy a panoramic view of the Chicago snow. Winter weather, however, is not always predictable. After you book a winter cruise, you may find the lake freezes over just before the big day.
Consider the Wind
Chicago may already be the Windy City, but you don't want excess wind to ruin your yacht tour. Wind can complicate the captain's job, just as it can shift around your event's outdoor decorations.
Luckily, the windiest times of year are toward the winter months and reach their peak in January, although there are occasional storms at other times of the year that could double the average wind speed. If you choose a time in the summer months, toward the tail-end of spring, or at the beginning of the fall, you'll find the calmer waters ideal for your event.
Consider City Events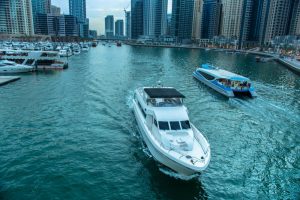 Chicago is a thriving community with many celebrations, events, and festivals for residents and tourists. They certainly drive more people onto the water, but they can also offer additional unforgettable moments you cannot experience at other times of the year.
Consider the following events for your luxury cruise:
St. Patrick's Day – Chicago's thriving Irish community goes all-out to commemorate the feast of their homeland's patron saint. In addition to the street festivals and parades up and down Lake Michigan's waterfront, you can also experience the Chicago River in bright green glory, a tradition the city has sponsored since 1962.
Culinary Festivals – Restaurant Week in Chicago is actually two weeks long, and the city's chefs produce tantalizing concoctions to celebrate. Consider a progressive dinner sailing between multiple different restaurants and courses. Alternatively, try the Taste of Chicago in June, an equally large festival in Grant Park.
Summer Fireworks – Two times per week in the summer months, the city hosts evening fireworks from the Navy Pier. You can experience unimpeded views of the fireworks from your yacht, just like a private show.
Lollapalooza – Your yacht can serve as a home base while you enjoy this large and diverse music festival.
Air and Water Show – In mid-August, Lake Michigan hosts one of America's largest air festivals, with flights from the Blue Angels, Golden Knights, rescue helicopters, stunt pilots, and wing walkers. Observe this adrenaline-pumping show from the comfort of your luxury charter yacht as if you were right on the tarmac.
What Is the Absolute Best Time for a Chicago Yacht Tour?
Many people ask us the best time to book a tour on our vessels, and the honest answer is that there is no "best" time. You should choose a date based on what you want most out of your experience. If beautiful weather is most important to you, we recommend a time in the early or late summer. If you'd like to have your tour coincide with a city festival, we're happy to work with you and make your dream excursion a reality.
Our only suggestion is that the earlier you book your tour, the more likely it is that you'll be able to secure the date you prefer.
Contact Chicago's luxury yacht company, Anita Dee Yacht Charters, at (312) 379-3191 to meet with our team and start the planning process today.