The fond memories that we make with our friends and family stay with us for a lifetime, and they only get better each time we look back on them. When we're with the people that we care about the most, it's as if time stands still and nothing else exists. This is even more true when we're sharing a breathtaking view, dancing all evening to lively music, or enjoying an incredibly delicious meal together. At Anita Dee Yacht Charters, we can provide all these and more for an experience you and your loved ones will remember for the rest of your lives.
Decide Where You Want to Go and When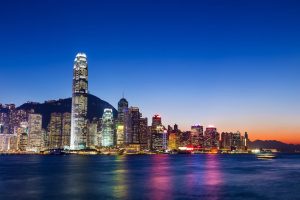 This may be the toughest part of planning your luxury yacht tour because Chicago offers so many beautiful views from the water. Whether daytime or nighttime, the Windy City is simply stunning. If you are in the mood for a bright, sunny tour during the day, you can choose a morning or afternoon departure. These are perfect times to appreciate the architecture on the Chicago River or enjoying vast, wide-open lake views.
If you prefer to depart in the evening, you can experience an entirely different ambience. The sunset views are breathtaking, and once the sun has gone down, you'll also get to see the skyline illuminated in all its brilliance. On top of this, there is no better place to experience the Chicago Summer Fireworks than from the deck of either of our yachts.
Plan Your Activities
In addition to the time of day and the location for your tour, the activities you plan will be the biggest factor in setting the tone for your event. If you are looking for something active, we offer water sports, including jet-skiing, snorkeling, and kayaking. Maybe you prefer a lively evening celebration to dance the night away, complete with a DJ and open bar. If you are in the mood for something more laid back, you can choose from a sightseeing tour with incredible 360-degree views from the observation deck. You can also select a total relaxation tour so you can leave your stress behind and just unwind out on the water.
Invite Your Friends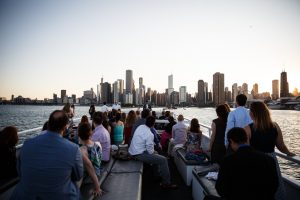 Your guests will turn your luxury yacht tour into something special. Whether you have a big or small gathering in mind, we offer two yachts of different sizes. The 120-passenger Anita Dee I is perfect for smaller, more intimate events and features two bars and a dance floor. The 400-passenger Anita Dee II can host a larger party with space for guests on three decks. The Anita Dee II also features a sophisticated piano lounge, a formal dining area, three bars, a dance floor, and even a helicopter pad. No matter which yacht you choose, you can tell your guests to come prepared for an exciting, unique experience.
Let Go and Enjoy Yourself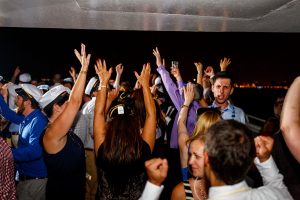 Everything is set up just right, and all your guests are here, ready to have fun. You've planned out each detail, and now it's time to hand over the reins to us so you can soak it all in. The best way to make new memories today is to be in the moment with your friends and family and to forget anything else even exists.
A great way to do this is to put your phone away and hire a professional photographer instead. You'll be able to enjoy photos and videos from your yacht tour that will let you relive the experience any time you like. You will also have high-quality images to post on social media, which we recommend doing when you're back on land at the end of the day. The best and most lasting memories that you'll make are the ones sharing laughs, telling stories, toasting those closest to you, and letting loose on the dance floor.
Contact Us
We've been creating memories on the water in Chicago for more than 30 years. The luxury yacht charter tours that we offer are the best way to get everyone you care about together in one place. Whether it's family, old friends, new friends, or all the above, it will surely be an experience that will be talked about for years to come.
We are ready to help you customize every detail of your yacht tour, so it's a one-of-a-kind event that's uniquely your own. From planning your trip to coordinating everything onboard during the party, we will make sure it all runs smoothly. Our high-quality vendors for catering, entertainment, photography, and more have been with us on many tours. We recommend that you use them for a seamless, professional event that you can simply show up for and enjoy. After all, this is your party. You planned it just the way you like it — so relax and have fun out there!
Call Anita Dee Yacht Charters today at (312) 379-3191 to talk with us about planning your captivating yacht tour. You can also submit a contact form to get in touch with our tour coordinator. Take a look at our FAQ page, which answers some of the most common questions about our tours.
Let us bring your vision to life as we create the unforgettable full-service experience of your dreams!