Anniversaries are special occasions most married couples celebrate. Whether you want to commemorate one year or multiple decades together, you should consider celebrating your next wedding anniversary on a yacht.
Yacht tours are unique excursions tailored to your specific needs. You can personalize every aspect of the event for an anniversary party you will never forget.
Below are elements you can include in your yacht tour to take your wedding anniversary celebration to the next level.
6 Ways To Celebrate Your Next Wedding Anniversary On A Yacht
Renew Your Vows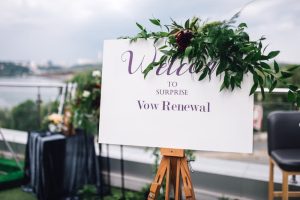 Many people renew their vows after significant life events or reaching a specific number of years in their marriage. Make your anniversary special by renewing your vows aboard a beautiful yacht. You and your guests can dress formally and enjoy the special moment in front of a backdrop of the Chicago skyline, sunset, or historic architecture.
A vow renewal makes a wedding anniversary unforgettable because it reminds you and your spouse of what brought you together and why your marriage works. It's a way of commemorating your love in the presence of all the people you care about.
Incorporate Aspects from Your Original Wedding
Hire the same band or DJ you had at your wedding for a walk, or dance, down memory lane. Incorporate the same décor to create a romantic ambiance. You can also serve the same hors d'oeuvres, entree, and dessert. By including original parts of your wedding in your anniversary party, your guests will take a trip back in time and remember the fun they had on your wedding day.
Every element of your yacht tour doesn't have to match your original wedding. You can include specific aspects you love and keep everything else different. The choice is entirely yours. You decide whether to keep everything the same or change it up a bit.
Display Photos from Your Wedding
One of the reasons yacht tours create long-lasting memories is the unique venue. You can set sail any time of the day along any waterway. You and your guests can enjoy the celebration while watching the sunset or passing by the city's most notable landmarks.
You can relive your wedding in a different location by setting up photos from your special day. Display pictures of you and your spouse, your bridal party, and family and friends throughout the yacht. You can also include photos from the engagement party, wedding shower, and previous anniversaries.
Give Speeches During a Champagne Toast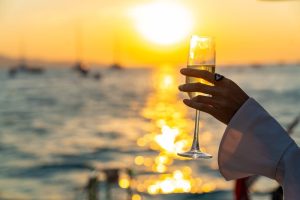 Speeches are typical during celebrations. Kick it up a notch with a special champagne toast. Your guests can express heartfelt sentiments about you and your spouse. They can share memories they have from the wedding or tell funny stories about your relationship. Champagne toasts are the perfect opportunity to create joyful, emotional, and amusing moments with the people you love.
Dance the Night Away
If you like to dance, be sure to hire a DJ or band to play at your anniversary party. Include your favorite music to keep everyone dancing all night. You can choose more laid-back tunes if you want to create a relaxed atmosphere during the festivities.
The night will surely be memorable if your DJ or band plays the song you and your spouse danced to at your wedding. You can relive that moment and share it all over again with your friends and family around you.
Provide Nautical Themed Favors
Finding a unique wedding favor is challenging. Most people go with a monogrammed wine stopper, customized candies, or hangover survival bag. Thinking about something different your guests have yet to receive at weddings might be tough.
However, throwing your event on a yacht offers an original theme. You can give your guests nautical-themed wedding favors. Think about the item you want your guests to keep instead of throwing it away the second they get home. You can hand out little anchor keychains or candles with nautical colors.
Be creative, and remember there's no wrong decision. You and your spouse get to decide what you want your loved ones to remember when they leave the yacht at the end of the party.
Celebrate Your Next Wedding Anniversary on a Yacht: Contact Anita Dee Yacht Charters Now
Anita Dee Yacht Charters has provided fully customizable yacht charters for over 40 years to our clients in Chicago. We will personalize our services to match your needs. You can work with one of our hospitality specialists to bring your vision to life and create an unforgettable experience.
If you want to charter a yacht for your wedding anniversary, our staff can help you make your special event on a yacht truly special. Contact Anita Dee Yacht Charters at (312) 379-3191 to learn more about how we can help.
Related posts: